How to Use ASAM Standards - A Collaborative Learning Approach
Member: Honda R&D Co., Ltd Automobile R&D Center, Toyota Technical Development Corporation, Nissan Motor Co. Ltd., Subaru Corporation, Hino Motors, Ltd.
Featured Standard: ASAM ODS, ASAM MCD-1 XCP, ASAM MCD-2 MC, ASAM MCD-2 D, ASAM CDF, ASAM XIL
Challenge: Since 2009, representatives from large Japanese OEMs, such as Honda, Toyota, Nissan, Mazda, Suzuki, Mitsubishi, Fuji Heavy Industry, Daihatsu and Hino, debated the use and potential benefits of international standards in the area of ECU development and testing. They each independently recognized that the use of standards could be beneficial in terms of connecting different departments and remote development sites, to improving work flows with their suppliers and ultimately to breaking out of the narrow boundaries of in-house, custom-made tools that all too often are high in costs and low in features. ASAM standards have been quickly identified as leaders in the embedded tools area and became a focal point of interest. Before committing to ASAM standards, Japanese OEMs needed to understand the content of the standards and their application in practice. The main question was if and how ASAM standards could be used on an enterprise level.
Solution: As the information provided in the Standard documents were not sufficient to evaluate their potential for Japanese OEMs, a group of nine OEMs, six Tier-1 suppliers and 32 tool vendors formed the Japanese ASAM Interest Group (JAIG) with the purpose to:
Figure out technical issues and use-cases that are common among the JAIG members
Jointly learn relevant ASAM standards and understand their application
Promote a local tool supplier base in Japan that is knowledgeable about ASAM Standards
The members of JAIG quickly identified the areas of Test Data Management, Automated Testing and Measurement & Calibration as the major points of interest for their work. Training sessions were organized for the ASAM MCD standards, ASAM CDF and ASAM XIL. Training classes, tool demos from vendors and technical discussions helped to become familiar with these standards. For other, more complex standards, a pilot implementation of a tool or tool-chain was set-up to understand its application. This article describes the pilot implementation for ASAM ODS.
Key Benefits: This joint and thorough approach not only guarantees a deep understanding of the benefits and limitations of the standards, but also creates acceptance both inside the company and among the network of Japanese OEMs and their suppliers. JAIG may be seen as a role model for other regions to get up to speed with standards and to quickly draw benefits from them in the dayto-day development activities of automotive companies.
The collaboration in workshops and study groups helped every participant enormously to understand ASAM standards and how to apply them in practical Use-Case scenarios. We are thankful to the tool suppliers and to ASAM in Germany for their support. For us, as an OEM, it is important that this knowledge further increases in Japan and leads to a domestic supplier-base that uses standards in their products and services. We believe that then the benefits of standards will fully materialize.
Kaoru Aoki, Honda R&D Co., JAIG Moderator
ASAM ODS in particular is a complex Standard that is IT-driven and thus difficult for engineers with little or no IT-focus to understand. This Standard requires practical experience to understand its full capabilities. However, Japanese OEMs have identified this Standard as a powerful tool to make better use of data both on micro (department) and macro (enterprise) levels.
One of the primary success factors of JAIG is the paradigm of collective learning in a community. Specialists in one technical area with alike interests met regularly and worked jointly to learn, understand and apply the standards of their professional area. It soon became clear that learning via presentations was not sufficient to understand the benefits and limitations of ASAM ODS. The group members called for real life scenarios. Therefore, it was decided that as a second step a real use case to demonstrate the abilities of ASAM ODS should be prepared. Although Japan has no tradition in this kind of cross-company collaboration, this approach worked quite well. The group succeeded in setting up a prototype ODS server and was able to try out its functions and understand the benefits of ASAM ODS.
Step 1 - Learning: The following objectives have been determined for the work group during the phase of studying the Standard: • Learning and understanding the basic terms and structures of ASAM ODS, such as the ATFX file structure, the usage of MIME types for complex engineering data, the base model, application model and the ASAM ODS API;
The set-up of an environment for a model-based development system. The task was to integrate validation data on an enterprise level as well as to allow integration of CAE and CAT;
The group wanted to get an idea of the ASAM ODS solutions available in the market and what it meant for local companies to invest in the standard to create a local eco system of tool vendors in Japan. Experts from Germany and India conducted initial training sessions. Real use cases were demonstrated and explained. These experts also helped the group define a use case that covers all basic concepts of ASAM ODS such as ATFX file, MIME type, application models, etc.
Step 2 - Pilot Project: For the pilot project an example in the area of noise, vibration and harshness (NVH) was used. Using an example from this area seemed to have several advantages:
NVH already provides a precise definition of engineering data such as octave analysis, order analysis etc;
It provides the possibility to store measurement conditions and measurement points along with test data that can be reused for CAE;
An NVH use case allows data sharing between different departments and different tools;
Many important NVH tool vendors offer ASAM ODS compliant tools. In order to see the benefits of the reusability of data, the use case focused on connecting enterprise level metadata to test data.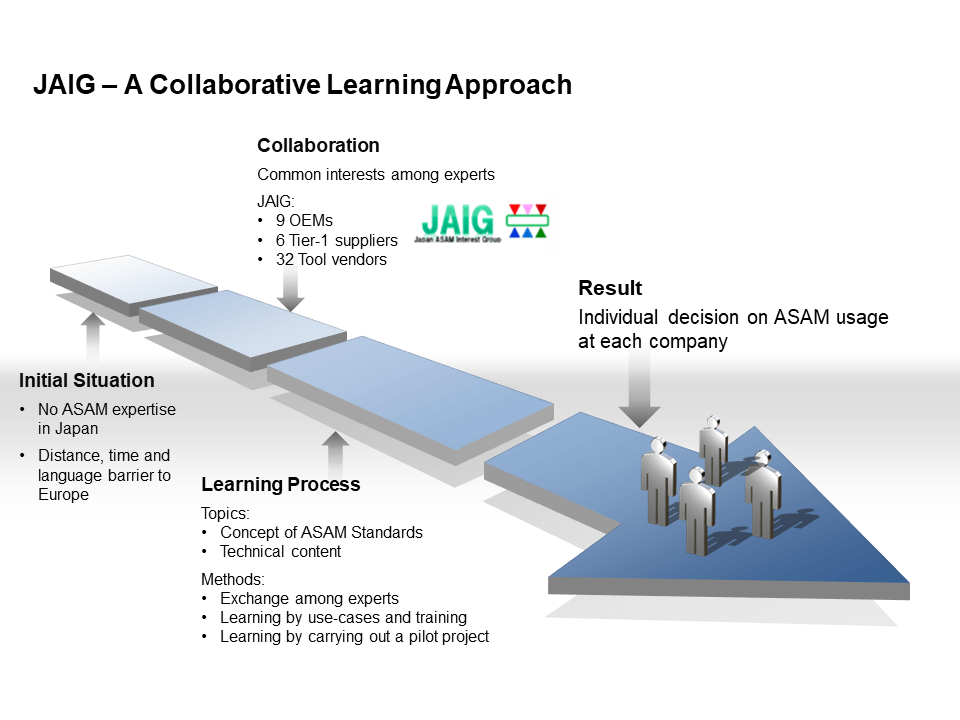 According to the agreed use case, a test ODS cloud server was set-up and maintained by PVMsys. The OEMs provided NVH sample data. Further data from tools were imported into the ODS server. Based on that set-up, different tool vendors demonstrated the connectivity of their tools to the data, proving that the system works well with all ASAM compliant tools.
The solution provided all next generation technology: it used an ODS server in the cloud, a smart importer for different data and provided connectivity of tools via a VPN connection. A special web application was implemented as user interface.
The work group faced some challenges throughout the project. The main challenge was to convince the OEMs to provide NVH sample data. Another challenge was where to host the ODS demo server; thus the idea of using a cloud-based solution was born. Third, IT security barriers had to be overcome in each company. VPN connections to external servers were blocked at most OEMs. Providing dedicated laptops that could then connect to the cloud server solved this problem.
Other challenges identified during the project include:
The standardization of engineering metadata
How to build an eco-system around ASAM ODS with Japanese tool vendors providing ASAM compliant products
How to convince management to invest in processes around ASAM standards and products Although the major work is done, some issues that the Pilot Project Work Group wants to further examine remain
Carry out performance benchmarks with different solutions
Investigate the possibility of ODS server clusters that connect on an enterprise-level
Although the major work is done, some issues that the Pilot Project Work Group wants to further examine remain:
Carry out performance benchmarks with different solutions
Investigate the possibility of ODS server clusters that connect on an enterprise-level
The main advantage was the fact that the entire community could learn about and understand a complex Standard:
They were able to learn about the usage of ASAM ODS both on the macro and micro levels: On an enterprise level, ASAM ODS helped streamline processes of the whole company. On a department level, it helped to use data more effectively in various tools thus increasing the availability and value of the existing data.
An ASAM ODS based solution helped with inter-department communication.
The project demonstrated that CAE – CAT integration is possible and reduces development time.
The project also identified a new approach called product validation management (PVM).
---
BACK TO OVERVIEW